Statistics show that in the next 10 years, the video streaming market is set to reach $241 billion.
Introduction
It's needless to say that despite the major global lockdown in the previous couple of years, the TV industry is thriving and monetization methods, especially SVOD, are booming at the moment.
So, as a TV Network owner who wants to maximize profits while ensuring a great user experience, you must be wondering, "Which monetization method would be the best for my TV network?"
We at TvStartup understand what you're looking for. That's why we've brought you priceless information about the top monetization methods of the TV industry. Soon, you'll be able to pick the best options for your TV Network and reach all the goals you've laid out. Let's get started right away.
Ad-Based Monetization: Great for Internet TV Channels
Most internet-based, free-to-use, TV channels are making millions of dollars in revenue through their "Watch Unlimited Content for FREE" model. Whether they're original TV channels, videogame streaming channels, or even online news channels, ad-based monetization works like a charm for them.
Internet ad-based revenue is generated through banner and post ads, as well as pop-up ads, which might be triggered as a result of clicking or using certain features of a website. Meaning, if the right ad strategy and placement are used, your TV channel can earn a fortune.
So, if you want to offer free content to your audience and attract more interested viewers while still having a profitable channel, ad-based monetization makes it very possible. It is one of the best monetization techniques for internet TV channels, and it will help your TV network reach the top of the industry. Dynamic ad insertion can be integrated from any ad provider to automatically place pre-roll, mid, or post-roll ads into your internet TV channel. You can also insert ads directly from your own sponsors by selling time slots for ad placements to advertisers yourself.
Haven't started your TV channel yet?

Schedule a free LIVE DEMO to see first-hand how easy the TvStartup platform makes it to launch and monetize your own TV network.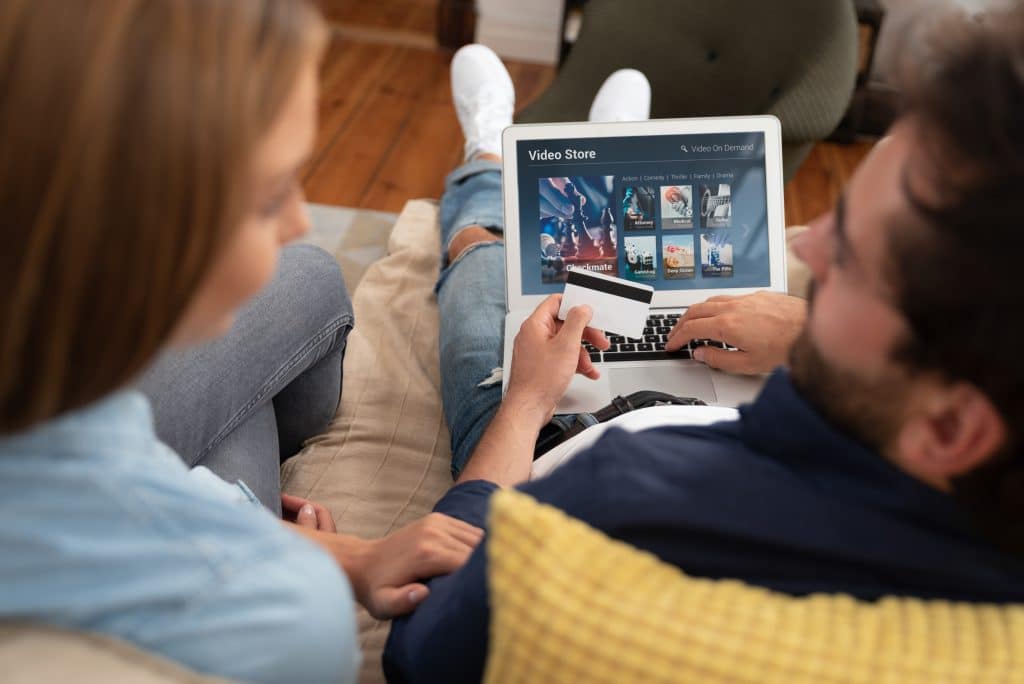 Subscription-Based Monetization: Perfect for VOD TV Networks


Without a doubt, for video-on-demand TV networks, subscription-based monetization is the best. This is because a channel that has a library of content, capable of being accessed at any time, requires a monetization model that ensures maximum profit while maintaining a wonderful experience for the users. In short, users won't have to encounter advertisements or disruptions in their streaming.
Having a monthly, weekly, or even yearly subscription plan based on multiple tiers makes this possible. Through this model, any video-on-demand TV network will thrive, given that it offers high-quality content that an audience would love to see.
The perfect examples of how subscription monetization works can easily be seen through Netflix, Hulu, HBO, etc. So, taking inspiration from these industry giants and use it in your own VOD-based TV network.
Pay-Per-View Monetization: Amazing for Private Events
Pay-Per-View (PPV) monetization is another amazing method that you can use for your TV network. PPV is when a viewer must pay a fee for getting access to your content, which then they can watch as a live stream or save for later viewing during their own leisure time.
This monetization method has worked wonders for many TV networks, especially in the education and sports sectors. PPV monetization is wonderful because creators can utilize the features as they please. Whether it's a live concert or live event, a learning workshop, or a fundraising event… the sky is the limit when it comes to charging a PPV fee for your videos.
Any content that you think will attract a large audience, who would be willing to pay to access, can be setup as PPV. Just remember that delivering a great viewing experience is crucial for PPV events to succeed.
So, it's easy to see how you can make use of the pay-per-view monetization method for your TV network if you're delivering high-quality content that has a lot of demand. With a PPV option, your TV channel will be able to not only generate a high amount of revenue, but it will also help your content stand out in the industry.
Which Monetization Method Should Your TV Network Use?


With so many options available for the monetization of your TV network, you might be confused as to which one would be the best for you to achieve success in the industry. Well, after building thousands of channels here at TvStartup, we can tell you that you no longer have to choose.
You should choose an OTT provider who offers a monetization model that simultaneously utilizes ads, subscriptions, and pay-per-view options. Having every option will allow you to make sure that your TV channel is making its maximum profit, while also delivering a high-quality viewing experience for your audience members.
This means you can have most of your content be free to your audience. On this free content, you will be running automated ad injections to produce profit. This content should be what you use to captivate your audience and get them "hooked." If you can accomplish this, then you can start charging subscriptions for other categories in your video library. Think of these categories as your premium content that only loyal fans can access. Lastly, any live or special events you wish to promote can be categorized as your PPV videos. Having all these options not only eliminates the stress of choosing between the three, but it also allows you to be paid by all three simultaneously.
Also, these are just the three major monetization options– the possibilities are truly endless if you're committed to creating a high-quality TV network. Always think outside of the box if you want to take your channel even further, but trust us, having these three tools already puts you ahead of the competition.
Conclusion


The right monetization method or a combination of methods can make your TV network reach new heights. You shouldn't have to choose between running ads, charging subscription fees, or hosting pay-per-view events. Like in life, you should always have multiple options when it comes to making money. Ensure that your channel can reach its maximum profit by choosing a software that allows you to fully and directly monetize your content. You'll be glad you did.
---
If you want to stay on top of the latest industry trends, news, and learning opportunities, make sure you subscribe to our newsletter.
TvStartup